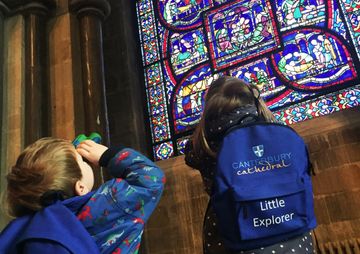 Dear Parents,
Re: Schools Cathedral Day 2017: Wednesday 8th November 2017
Our year 5 and year 6 pupils have been invited to attend the Canterbury Cathedral Schools day 2017.
During the morning the children will take part in workshops and in the afternoon gather together with children from other schools in the Cathedral to take part in an act of worship. Last year's day was a huge success with groups of children participating in the various workshops which included needlework, stonemasonry, singing, making roundels, pottery and painting to name but a few.
We feel that this is a worthwhile school trip for our children's spiritual development especially in preparation for those children who are leaving us for Secondary School next year.
There is no cost for this valuable experience however, please may we request help with transport arrangements to and from Canterbury which will be as follows:
Wednesday 8th November 2017
9am - Children arrive at Canterbury Coach Park, Kingsmead Road, Canterbury CT1 1BW. This is the same car park which we use for our Pantomime outing. Children will be met by Mr Gannon and walked to the Cathedral.
2.15 pm – Please arrive at the same car park and await the return of Mr Gannon and the children who you are responsible for. Those children not expected to participate in after school activities can go home.
All children must wear full school uniform. A packed lunch will be required in a disposable bag clearly labelled. THERE WILL BE NOWHERE TO LEAVE BELONGINGS so any coats/bags will have to be kept with your child at all times during the visit.
Please can you inform the office via e-mail as to which children you can drop off/ pick up or if you need assistance with travelling to and from Canterbury. Please could we have transport arrangements as soon as possible.
Thank you for your co-operation.